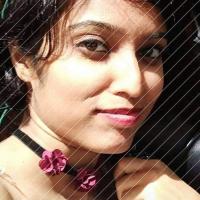 Passionate about Mathematics and Statistics
I am a final year UG student .
I am pursuing triple majors in (Economics ,Mathematics ,Statistics).
I have teaching experience of two years. I have taught for high school students mainly.
: Tutor
: 22
: F
: Mathematics, Statistics

2.I have completed class 11th with a 95.5 percent and class 12th with 83.8 percent from Narayana Institutions, Bangalore,India
3.I have done a six month course in accounting.
4.I have a certificate in animation at beginner's level
5.I have home tutoring experience of 2 years for high school students
6.I am currently in final year (triple major) in Eco,Maths,Stats from Mount Carmel College, Bangalore.
7.I have done MATLAB,SPSS,EXCEL,PYTHON, in my undergraduation.

: 1. I have completed my class 10th from ICSE boards with a percentage of 91 from Acts secondary school, Bangalore ,India.
: English
: Undergraduate student
: Intermediate, High school, College/University
: 50 : 100
: When I take classes for 30 min , i can charge half the rate of my minimum hourly charge .
: Monday to Wednesday - Evening 5pm-6pm according to IST , indian standard time Saturday Sunday Evening 5pm-6pm , according to IST,

: karnataka
: India
: 560100
: Only online or tutor's home/office
: Online, Email

I have taught a cbse class 10th student, India
I have taught aptitude for a student who was applying for airforce exam in India
: I have an experience of two years in home tutoring .
: 2
: Student
: Primary job
: Yes
: 6 months (2020-11-26 07:39 UTC)