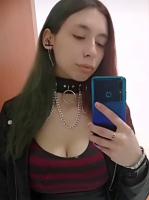 12º grade profissional school graduate with 2 years tutoring experience
Hi!

I just finished 12th grade in a profissional school and, while I wait to get into law school, I'm looking forward to make some extra money tutoring, wich will help me get my drivers license and have a savings account while in university.
I found this is a good way to make some money since I'll be helping people and at the same time, people will be helping me.

NOTE: you may also contact me through my instagram - cheilapolido
Currency: Euro - payment through multibanco and/or PayPal ; USD and other currency's - payment through PayPal

Thank you for your attention!
: Tutor
: 20
: F
: English, Portuguese, Primary School Subjects, Other Subjects
:
: English, Portuguese
: High school
: Elementary, Intermediate, High school
: 5 : 10
: The fees displayed are final (minimum: 5; max: 10), but, I may be able to be flexible with the payments and hourly fees if necessary.
: Session times will be discussed with the students (or parents) since my schedule is very flexible right now.
:
: Portugal
:
: Only online or tutor's home/office
: Online, Email
: 2 years tutoring while I was studying
: 2
: Other
: Other
: Yes
: 8 months (2021-09-03 16:05 UTC)