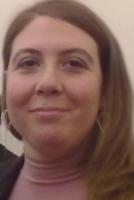 Language Tuitions - On Skype Italian - Spanish - English etc.
Lingue per lavorare - Lingue per viaggiare

ITALIANO/NAPOLETANO PER STRANIERI - ITALIAN/NEAPOLITAN FOR FOREIGNERS
SPAGNOLO
INGLESE
TEDESCO
LATINO
GRECO
PREPARAZIONE ESAMI e CERTIFICAZIONI

Private Language Lessons with Chiara, a native Italian/Spanish qualified Tutor who can help you with:
-Starting to learn Foreign Languages
-Improving your level
-Studying for exams
-Grammar, Conversation, Culture
-Preparing you for lovely travels
: Tutor
: 38
: F
: Italian, Spanish, English, Latin, Greek (ancient), English Literature, Spanish Literature, Italian Literature, Tour & Travel Management, German

-Certification DITALS (Certification of Competence in teaching Italian to foreigners) issued by University for Foreigners of Siena, Italy.
-Diploma in Spanish as a Foreign Language (DELE), Proficiency Level, issued by the Instituto Cervantes.
-International English Language Testing System (IELTS) Certificateby UCC, University College of Cork, Ireland.
-Training Course for Travel Agents
-Qualification as Registered Tourist Guide.
: -Degree in Modern Languages
: Italian, Spanish, English, German, Portuguese, Japanese
: Master
: All
: 12 : 15
:
:
: Italy
:
: 10 Miles
: Online, Email, S-home, T-home

– Italian Teaching Assistant at the Italian Language school Volare Club Italia Nagoya Co., in Nagoya, Japan
– Italian teaching in Córdoba (Argentina), in Karlsruhe (Germany), in Rome, in Forlì, in Salerno, in Vico Equense (Italy)
– Italian Teaching to immigrants in Castellammare di Stabia, Naples, Italy and Cooperation with Adult Education Programmes.
– English and Spanish Teaching in Torre Annunziata -Vico Equense- Sorrento, Naples, Italy

: – Organization and promotion of Foreign Languages courses in Vico Equense – Sorrento, Italy
: 10
: Professional
: Primary job
: Yes
: 1 year (2019-06-28 21:08 UTC)