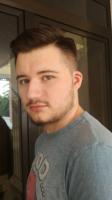 Native British citizen living in Rome, Italy offering English speaking lessons
Hello my name is Connor I am a Native British speaker living in Rome, Italy. I moved here around 4 years ago and have been giving English lessons ever since alongside my other job as a museum assistant at the Keats-Shelley House Museum in Piazza di Spagna. My lessons are all about talking and progressing using words that Natives would use on a daily basis. I have worked with students of all ages from as young as 7-80! I cover a range of subjects that are designed around the student so if you need extra lessons for a work setting we can work on that if it's for school we'll design the lesson around that or if it's just to improve on your spare time we'll cover your hobbies and interests. If you would like to start a lesson please don't hesitate to send me a message and we can get a lesson booked at your earliest convenience.
: Tutor
: 27
: M
: English, English Literature, Other Sports, Public Speaking, Life Coaching, Pets & Animals

 TEFL: Teaching English as a Foreign Language
 Charity and Fundraising LinkedIn Certifications:
 Strategic Thinking
 Social Media Marketing:
Strategy and Optimization
 Nonprofit Management
Foundations
 Demonstration Accountability as a Leader
 Selling into Industries: Telecommunications
: CERTIFICATIONS
: English
: Undergraduate student
: Intermediate, High school, College/University
: 15 : 20
: Currently available all day on Monday's/Thursday's and Saturdays 9am-5pm!
: Rome
: Italy
: 00125
: Only online or tutor's home/office
: Online, Email, T-home

 At the St Georges' Institute in Rome, It I prepared courses and gave lessons in English to a range of different students who are on different levels from A2-C2.
 I have observed, assessed and recorded students progress,
: St. Georges' Institute - English Teacher Rome, IT
: 4
: Professional
: Secondary job
: Yes
: 3 weeks (2022-07-15 06:42 UTC)