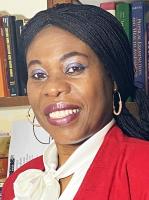 Egodi

Hear voice presentation
Nursing Consultant, Experienced Nursing Educator, Peer Reviewer and Researcher
: Tutor
: 46
: F

:
: Medicine & Health, Other Body Subjects
: PhD, Nursing Educational Leadership, School Nurse/Teacher of Health Certification, Masters of Science in Nursing/Masters of Public Administration, Bachelor of Science in Nursing.
: English, Other
: PhD
: College/University
: 40 : 50
: Fees charged will depend on complexity of tutoring required
: Mostly evenings and occasional Weekends

: New Jersey
: United States
:
: Only online or tutor's home/office
: Online

Investigated the Health beliefs and knowledge effects on the intentions toward Prostate cancer screening among Nigerian immigrant men.
RESEARCH JOURNAL PEER REVIEWER EXPERIENCE
• Journal of Public Health.
TEACHING EXPERIENCE
Clinical Adjunct Faculty, Caldwell University
Adjunct Nursing Faculty, Seton Hall University
Course title: Dimensions of Psychosocial Nursing
Adjunct Nursing Faculty, Union County College
Course title: Mental Health Nursing-.
PUBLICATIONS
Ekeh, A.E. Health beliefs as predictors of intentions toward prostate cancer screening among Nigerian immigrant men. Published by the Journal of Public Health: From Theory to Practice.

: RESEARCH EXPERIENCE
: 8
: Professional
: Secondary job
: No
: 1 year (2020-08-10 17:31 UTC)