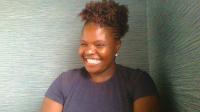 Esas
Average rating
Nr. of
ratings
4
Show comments
Swahili lessons-beginners to proficiency. Tailored to suit every client's needs.
Language is the bridge that connects people of different nations.
It is beautiful and fulfilling teaching a totally new language to students/clients and seeing to it that they become fluent speakers of the language and conduct their activities successfully using the language.
A FRIEND A FAR BRINGS A DISTANT LAND NEAR!
: Tutor
: 36
: F
: Swahili, Geography
: Bachelor of Education arts in Geography and Swahili
: English, Chinese (Mandarin), Other
: Bachelor
: College/University
: 20 : 30
: Lessons to be booked well in advance by paying a fifty percent deposit before the first lesson. The rate will be agreed upon
: AVAILABLE FOR EVENING
: Nairobi
: Kenya
: 254
: Only online or tutor's home/office
: Online, Email, Phone, S-home

I have also translated English Documents to Swahili for Helen Keller International, Nairobi branch. With me, you can be assured of professionalism and quality work. In my classes, we sing Swahili songs, play Swahili games and do translations and general Swahili Conversations. The approach is purely based on what the student wants to gain at the end of the course. Hence my approach is mostly learner centred except when I have to teach grammar first.

: I have ten years experience in the teaching profession, seven of which were purely dedicated to teaching foreigners in Kenya and abroad via Skype and one on one. Besides, I am a native Swahili speaker. I am a very patient instructor who is experienced in handling both slow and fast learners. I have previously worked for Listen and Learn company and Language Trainers both located in USA, as an online Swahili Trainer.
: 10
: School Teacher
: Primary job
: Yes
: 3 months (2022-07-25 18:06 UTC)