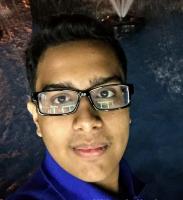 Computer Science and Math Tutor
I am an online tutor with 3+ years of experience. I am an online tutor with over 3+ years of experience.

I am been tutoring students (from k-college) since 2016. After in-person tutoring, I started doing online tutoring on many different platforms, starting from YouTube, where I made my first tutoring video on Algebra 2 and 3years later, I still continue to post tutoring videos on the public forum. During YouTube, I started tutoring kids using this online service platform named letGo, there I tutored a High School Junior for Algebra 2, an SAT student and a primary schooler for NYC Gifted and Talented Exam.

Then I started tutoring on Eventbrite using live Video conference and I still do it to this day. If you wanna see all the work that I just mentioned, please look at my resume, I posted all the links there.

Hire me, I promise you won't regret.
: Tutor
: 19
: M
: Biology, Chemistry, Mathematics, Computers, Algebra, Other mathematical subjects, History, Physics, Internet, Trigonometry
: Best Tutor's Award: Elizabeth Blackwell
: English, Hindi-Urdu, Bengali
: Undergraduate student
: All
: 10 : 40
: Monday - Sunday: 9pm - 6am

: New york
: United States
: 11416
: Only online or tutor's home/office
: Online, Email, Phone

SHSAT tutor for Izzy Chen (I helped him get into Bronx Sci),
Gifted & Talented Exam tutor for
YouTube Tutor:
Tutor at Eventbrite

: Java tutor for Scarlett Ryan from Forest Hills HS,
: 4
: Online Tutor
: Primary job
: Yes
: 11 months (2019-11-02 02:37 UTC)