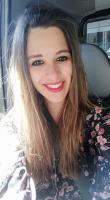 Dottoressa in Studi storici e filologico-letterari
Sono Giada, laureata in Studi storici e filologico-letterari (laurea specialistica). Ho 25 anni e insegno discipline umanistiche (storia, grammatica italiana e letteratura italiana, geografia, latino) in una scuola media nella provincia di Trento. Possiedo il livello C1 delle seguenti lingue straniere: inglese, tedesco e spagnolo.

Hi, I am Giada and I am 25 years old. I have a master degree in historical, philological and literary studies. I teach humanities (history, Italian grammatic and Italian literature, geography, latin) in a middle school in Trento province, Italy. I have the C1 level in the following languages: English, German and Spanish.
: Tutor
: 26
: F
: History, Italian, German, Spanish, English, Latin, Italian Literature

Master Degree in Humanities-with teaching diploma
: Laurea magistrale in Lettere-con diploma formazione insegnanti
: Italian, Spanish, French, English, German
: Master
: All
: 15 : 20
: Da concordare To be agreed
: TN
: Italy
: 38121
: Only online or tutor's home/office
: Online

During the Master degree I was Tutor in my University Department. I helped students with the preparation of the following exams: English, Spanish, Italian Literature, Latin, History. I also taught Italian and English to non-native speakers. I am now teaching humanities in a middle school.
: Durante gli anni di laurea magistrale sono stata Tutor specifico presso l'Università degli Studi di Trento. Ho affiancato gli studenti dell'Università di Trento del Dipartimento di Lettere nella preparazione di esami di: Inglese, Spagnolo, Storia, Latino, Letteratura Italiana. Ho inoltre insegnato italiano e inglese a studenti non madrelingua. Ho inoltre svolto alcune esperienze di insegnamento all'estero: ho insegnato tedesco livello intermedio i n una università in Colombia per tre mesi e insegnato inglese in una scuola elementare in Egitto per due mesi. Da quest'anno accademico sto lavorando in una scuola media come insegnante di Lettere.
: 3
: School Teacher
: Secondary job
: No
: 1 year (2019-10-16 21:35 UTC)