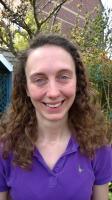 Fun Native English Teacher from Oxford
I was born and raised in Oxford. I have lived in Italy and now in France. I love to teach and learn about other cultures at the same time. I live in an eco-village and want to offer my skills in exchange for your skills.
: Tutor
: 39
: F
: English

Bachelor of science with honours; 2,1 in Biological Science from Exeter University 2003
: TESOL grade B+ from Trinity college London in 2008.
: English, Spanish, French, Italian
: Bachelor
: All
: 10 : 25
: First lesson free of charge I am happy to do a part exchange, skill swap, just ask
: Flexible
:
: France
: 24440
: Only online or tutor's home/office
: Online, Email, Phone
: I have taught in 4 different language schools in Oxford. (Most recently in 2020 at Oxford School of English) I am very experienced in general English. I have taught some exam classes for IELTS and PET prep.
: 5
: Online Tutor
: Primary job
: Yes
: 5 months (2021-01-06 02:05 UTC)