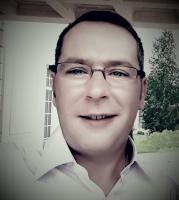 Lionelh

Hear voice presentation
Enseignant privé de Français - French native Tutor
Bonjour,
Je suis français et j'enseigne depuis 2009 en Russie en face à face et en ligne. Tous les niveaux sont les bienvenus afin de vous aider à atteindre vos objectifs en Français.
French Native speaker . Teaching since 2009 in Moscow as private tutor in face to face lesson or on line. All levels welcome ! Would be glad to help you to reach your goals in french.
: Tutor
: 50
: M

:
: French, Literature, Primary School Subjects

Formation DAEFLE suivie en 2014 avec spécialisation en enseignement pour les enfants.
Fourth year of university (Bachelors Degree) study in Sciences of Information & Communication - Paris IV - Sorbonne University.
Maîtrise en Sciences de l'information et de la Communication - CELSA Paris IV - Sorbonne.

: DAEFLE training followed in 2014 with spécialization of teaching with children.
: French, English, Russian
: Master
: College/University
: 30 : 30
: Contact me. Me contacter.
:
: France, Metropolitan
:
: 5 Miles
: Online, Email, Phone, S-home

- Individual approach and services tailored to customer needs.
-Training and coaching for DELF & National french School exams (Brevet National, Baccalauréat), French History and Geography, General french Culture.
Cours classiques FLE - Conversation, Vocabulaire, Grammaire et Conjugaison.
Cours spécifiques - Littérature, Histoire de France, Géographie française…
Coaching DELF et DALF
Accompagnement et entrainement pour les examens nationaux français - Brevet National et Baccalauréat.
Préparation à la prise de parole en public en français, rôle théâtre, poésie…
Soutien scolaire et aide aux devoirs pour enfants et adolescents.

: - Teaching French language courses . All levels. Tutoring and follow up with students from Alexandre Dumas in Moscow.
- Tutoring, School and Homework help and support, School coaching. 
- Taught French courses in companies (Lawyers, Industries…).
- Refresher courses and conversation with students and professionals.
- Translation of texts.
: 10
: Online Tutor
: Primary job
: Yes
: 7 months (2021-11-06 05:54 UTC)