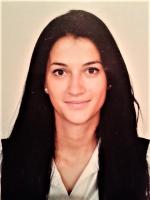 English and history teacher from Croatia gives English lessons
Hi there everybody, I'm an English and history teacher from Croatia, I got my BA in English and my TEFL in 2017, I'm getting my MA within 2 months. I have been teaching English since I was 18 and my level is almost native. I like to give informal lessons of English with an emphasis on conversation but I'm willing to adapt to the needs of my students.
I can teach you general history, travel organisation (including time management), help you create the perfect travel itinerary.

Feel free to contact me! :)
: Tutor
: 26
: F
: Other Languages, English, History, English Literature, Tour & Travel Management

Finishing MA also in English and History
TEFL- Valencia, Spain 2017

: Bachelor's degree in English and History - University of Split, Croatia
: English, Other, Spanish
: Master candidate student
: Elementary, Intermediate, High school
: 10 : 20
: Payments via Paypal
: We can arrange our time table.
: Croatia
: Croatia (Hrvatska)
: 21000
: Only online or tutor's home/office
: Online
: I have been teaching English for a couple of years now, I have worked with adults and teenagers mostly. During my studies I gave English lessons and they were compulsory as part of my programme. I did two internships in Spain where I also worked in a private and public school.
: 4
: Unemployed
: Helping people
: No
: 1 year (2018-12-22 15:27 UTC)