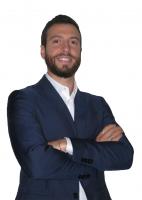 Lezioni e sviluppo progetti di Econometria, R, Statistica e Matematica.
Oltre 5 anni di esperienza in Analisi di Dati in azienda e Professore di Statistica. Presente sulle piattaforme online da oltre 2 anni.
: Tutor
: 29
: M
: Economics, Programming Languages, Mathematics, Statistics

Laurea Magistrale in Economics and Finance, Università di Milano
Laurea Triennale in Scienze Politiche e delle Relazioni Internazionali, Università di Parma,
Diploma di Maturità Scientifica
: Master di secondo livello in Data Science for Economics, Business and Finance
: Italian, English
: Master
: College/University
: 40 : 50
:
: Milano
: Italy
:
: Only online or tutor's home/office
: Online, S-home, T-home

Precedentemente: Travel Predictive Analyst presso Uvet Global Business Travel
Attualmente: Teach Assistant di Statistica e di Metodi Matematici presso l'Università Statale di Milano e Professore Esterno di Big Data presso l'Università Bicocca.
: Attualmente: Data Scientist presso T-Voice
: 5
: Professional
: Helping people
: Yes
: 7 months (2021-11-12 21:52 UTC)