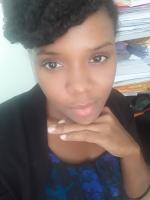 I offer Chemistry and Biology assistance to high school students.
Hello I am Ms. Winter, a University trained science high school teacher for Biology and Chemistry. I have a love for the sciences and nature. I have a passion for learning and teaching. My main goal is to bring light to students and to assist students to gain a good understanding of the sciences.

I am from the lovely island of Saint Lucia! I am comfortable with teaching via the online platform.

Learning Chemistry and or Biology is such an amazing thing to do. Do not miss this opportunity to gain a better understanding of Chemistry and or Biology.
: Tutor
: 27
: F
: Biology, Chemistry
: Post Graduate diploma in Science Education, Bachelors degree in Chemistry and Biology (Double major), Certified Emergency Medical Technician
: English
: Bachelor
: High school
: 40 : 75
: When assisting students with assignments and/ topics taught to them, the hourly fee is $40. However when assisting students who have never done the subject before, the hourly fee is $75.
: I am available from 5pm to 10pm Mondays to Thursdays

: NA
: Saint Lucia
: 02801
: Only online or tutor's home/office
: Online
: High School Science Teacher, College Chemistry Lecturer, Caribbean Examinations Council Marker,
: 5
: School Teacher
: Secondary job
: Yes
: 4 months (2021-01-24 03:15 UTC)