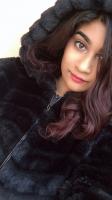 Insegnante di inglese, basic coding, informatica, matematica.
Sono un insegnante di matematica e scienze di una scuola primaria privata. Lavoro anche al "Lester and Chapman institute of english". Ho una passione per l'informatica.
: Tutor
: 26
: F
: English, Mathematics, HTML/CSS, C, C++, Computers, Computer Literacy, Primary School Subjects

lttc
celta
esol
: Ielts
: Italian, English, Other
: Master
: Elementary, Intermediate, High school
: 6 : 17
: ELEMENTARE 5 MEDIE 12 SUPERIORI 15
:
: Monza e Brianza
: Italy
: 20862
: Only online or tutor's home/office
: Online, Email

-Dopo la maturità ho iniziato a fare ripetizioni e aiuto compiti anche agli studenti di scuole medie e superiori.
-Nel 2018 dopo aver studiato inglese che è la mia madre lingua ho trovato lavoro al "Lester & Chapman" un istituto di inglese privato che prepara gli alunni agli esami del Cambridge (Io insegno per gli esami Pre A1 starters e A1 movers).
-Nel 2019 Ho iniziato ad insegnare in una scuola privata a Milano.
: -Ho iniziato a fare ripetizioni di musica, matematica e inglese ai bambini delle elementari quando avevo 16 anni.
: 2
: School Teacher
: Primary job
: Yes
: 11 months (2020-03-05 15:24 UTC)