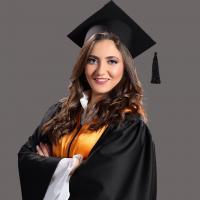 we will have fun while learning with a good price and great knowledge
I am Nour Badran from Jordan, i studied Computer Science in Princess Sumya University for Technology. i have some certificates in teaching Arabic for people who dont speak Arabic. I give tutor lessons for kids in English, physics,math and Arabic.
i teach statistics, HTML and computer skills for Collage students.
i took a certificate for teaching how to become a better person.
: Tutor
: 23
: F
: Computers, C++, HTML/CSS, Microsoft Word, Microsoft Excel, Microsoft PowerPoint, Internet Marketing, Arabic, Physics, Statistics

2. IG student
3. certificate in teaching arabic for people who doesnt know arbabic
4. a certificate in teaching how to be a better person
: 1. bachelor degree in computer science
: English, Arabic
: Bachelor
: All
: 15 : 30
: 15$ per hour
: any time we plan
:
: Jordan
:
: Only online or tutor's home/office
: Online, Email, Phone, S-home

2. tutor in physics, english, arabic and math for kids
3. tutor in statistics, HTML and computer skills for college students
4. working in a digital marketing companies
: 1. used to teach kids in nurseries
: 5
: Other
: Secondary job
: Yes
: 1 year (2020-02-04 14:46 UTC)