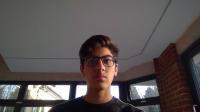 A* tutor, keen to help
Currently studying at Merchant Taylors School, year 12. Achieved 10A*s in IGCSE's. Willing to help any child achieve the same success by using the same strategies and tactics I found helpful.
Predicted 3A*'s in Maths, Economics and Spanish A level.
Fully familiar with the 9-1 GCSE's - I achieved 3 9's in triple science (Biology, Chemistry and Physics).

Would love to help someone who needs some aid or is struggling. I can teach them where I went wrong and make the learning process extremely fun and rewarding.
: Tutor
: 17
: M
: English, French, Spanish, Mathematics, Chemistry, Biology, Physics, Computers, Geography, How to Overcome Fears

3 A*s -- A levels
: 10 A*'s -- IGCSE's
: English, French, Spanish
: Undergraduate student
: Elementary, Intermediate, High school
: 10 : 15
: I charge £20 per hour, travel costs included. In my opinion, its a reasonable amount as I am a driven tutor willing to put time and effort into my pupils
: Monday -- after 4:15 Thursday -- after 4: 15 Friday -- After 4pm Sat/ Sun -- All day
:
: United Kingdom
: HA3 8TZ
: 10 Miles
: All

Tutor pupils in my school in year 11 in biology, chemistry and maths to mentor them for their IGCSE's.
: Tutored previously at Big Fish Tutors. A well establish tutoring firm. Teaching maths and English to younger children from year 2 to year 8. An enjoyable experience however the hours weren't the best and so have decided to start privately.
: 4
: Online Tutor
: Secondary job
: Yes
: 7 months (2020-01-22 14:17 UTC)