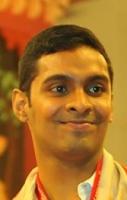 I am mathematics and statistics tutor with over 5 years of experience.
: Tutor
: 24
: M
: Mathematics, Statistics, Algebra
: I have cracked one of the toughest exams in the world. JEE-ADVANCED. Subsequently, I finished my majors in Mechanical Engineering with a Dual Degree and minor in Economics at IIT Kharagpur. It is during my college days that I took up teaching mathematics and statistics to students. Currently I work for a Wall Street Bank.
: English
: Master
: All
: 20 : 200
: I offer my first class for free, the fee depends on complexity of the topic and regularity of the classes. Fee is negotiable
:

:
: India
:
: Only online or tutor's home/office
: Online, Email, Phone
: I have taught at various levels like elementary, high school, college as well as University for 5 years now. I have a 100% positive rating on Chegg Tutors. I have mentored students before for GRE too. I specialise in teaching maths and statistics, and subsequently data science
: 5
: Professional
: Secondary job
: Yes
: 5 months (2020-12-27 18:23 UTC)