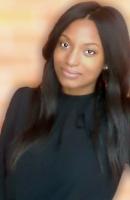 Siury

Hear voice presentation
Certified American Online English Teacher
My name is Siury. I am from New York, USA so I am a native English speaker. I would love to work with you and help you become more confident speaking in English. I will not speak another language with you so classes with me will be full immersion and will be a great push for you to express yourself so that we can communicate.

I previously worked in Investment Banking in Risk Management. I no longer work in the field as I would like to start my own business. I teach as I enjoy helping others and it provides me with the flexibility to work on other projects. We can have online classes at your preferred days and times, if the schedule permits. This way you can learn from the comfort of your home or anywhere.

I customize the lessons to focus on your needs and wants. My main goal is to have the class be fun and engaging so that you master the language with ease.
: Tutor
: 33
: F

:
: English, Spanish, Mathematics
: Bachelor's Degree in International Business and Management. Master's Degree in Finance.
: English, Spanish, French, Portuguese
: Master
: All
: 22 : 41
: Group classes available. I offer 25 minute (min.), 30 min., 45 min., and hour long classes at different prices. Please contact me to find out more. Private (one on one) classes range from $17 to $41 b
: Flexible

: New york
: United States
: CR2 7DL
: Only online or tutor's home/office
: Online, Email, Phone

I have taught formally in a classroom for 2 years in Spain.
I taught english privately for 2 years in France.
: I have been teaching English online to adults and children since 2017.
: 7
: Online Tutor
: Helping people
: Yes
: 7 months (2021-01-01 15:22 UTC)