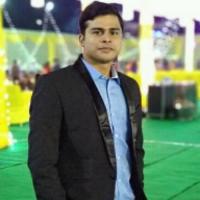 Online tutoring to students, free help in all possible ways
Hello i am engineer as well as banker and have 8 years of experience in teaching students.I try to build concepts of students, make them understand problems easily and solve them. Overall my strategy for students always has been to simplify things for them in their fields. Learning and understanding is a enjoying process, so if done through smart techniques and tricks helps students a lot. I wish all my students best of for their future endeavours.
: Tutor
: 30
: M
: Mathematics, Algebra, Computers, Personal Development, Chemistry, Internet

Electrical and electronics engineering
Assistant manager at psb
Online tutor at international websites
: Bachelor's of technology
: English, Other
: Bachelor
: College/University
: 8 : 25
: First lesson is free of cost to all my students. From second lesson small fee to bright students.
: Monday to friday :-evening time Saturday amd sunday:- Any time as per my students

: Uttar pradesh
: India
: 226024
: Only online or tutor's home/office
: Online, Email, Phone, T-home
: 8 years of live and online experience in teaching student s
: 8
: Professional
: Helping people
: Yes
: 1 year (2019-07-04 21:26 UTC)