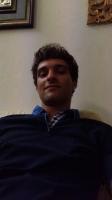 Studente di ingegneria, tutor da 5 anni-Engineering student, tutor since 5 years
Studente di Ingegneria al Politecnico di Milano. Do ripetizioni da più anni. Disponibile e paziente. Serio o amichevole. Per tutte le età.

Engineering student at the Politecnico di Milano. Have been teaching young students for years. Available and patient. Serious or friendly. For all ages.
: Tutor
: 28
: M
: Mathematics, Chemistry, Physics, Computers, Other Engineering, Statistics, Matlab, C, Ecology, Environment Sciences, Latin
:
: Italian, English
: Undergraduate student
: Intermediate, High school, College/University
: 15 : 20
: Escluso la domenica, tutti i giorni dalle 14 alle 19, eccezionalmente in altri orari. Excluding Sunday, every day from 14 to 19, exceptionally at other times.
: Milano
: Italy
: 20134
: Only online or tutor's home/office
: Online, S-home, T-home

I study Environmental Engineering, I mean memory techniques, gardening, computers, programming, sports, nutrition, as well as giving repetitions in 10 subjects for years: mathematics, physics, chemistry, Latin, computer science, statistics, hydraulics, construction science, geotechnics , modeling; ArcGIS software; I can program in R, C or Matlab. My youngest student was 7 years old, the oldest was 50 and older.
: Studio Ingegneria Ambientale, mi intendo di tecniche di memoria, giardinaggio, computer, programmazione, sport, alimentazione, oltre a dare da anni ripetizioni in 10 materie: matematica, fisica, chimica, latino, informatica, statistica, idraulica, scienza delle costruzioni, geotecnica, modellistica; software ArcGIS; so programmare in R, C o Matlab. Il mio studente più piccolo aveva 7 anni, la più grande 50 e più.
: 5
: Online Tutor
: Secondary job
: Yes
: 11 months (2019-09-22 12:35 UTC)