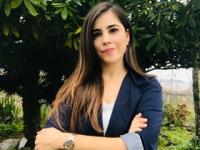 Experienced language teacher (Spanish, English, Literatures)
Hi there! My name is Fátima and I am a professional teacher. I have a great academic and professional background as a philologist and I worked for different institutions since 2016.
I am interested on being efficient and well-organized in order to help students to achieve their objectives, so I am conscious about the importance of creating a personalized study plan.
The price includes:
-the lesson
-preparation and organization of the lesson in order to make it as productive as possible
-monthly monitoring about goals exceeded and aspects to be improved.
-study material.
Contact now, ¡together we can succeed!
: Tutor
: 28
: F
: Spanish, English, Literature, German Literature, Spanish Literature, English Literature

Masters Degree in Teacher Training at the University Isabel I
: Grade in Modern Languages and Literatures at the University Complutense of Madrid
: English, Spanish, Other, German
: Master
: All
: 12 : 20
: Mornings: 08:30-14:00 Afternoons: 15:30-21:00
: Pontevedra
: Spain
: 36636
: Only online or tutor's home/office
: Online, Email
: I worked as a language teacher since 2016. I have experience teaching students with different levels and ages. I worked as a teacher at different institutions such as schools, highschools and academies.
: 4
: Online Tutor
: Primary job
: Yes
: 1 year (2020-01-22 19:13 UTC)