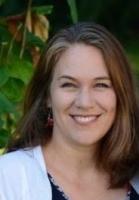 High Quality and effective tutoring in Biology, Anatomy,Chemistry and more .
I am an energetic, highly engaged teacher who is passionate about helping students learn material in an easy to understand way. I work extra hard with each student until the goals of learning are accomplished.
I have 10 years of experience teaching as well as 6 years of homeschooling all subjects to my 4 children from 4 to 6th grade. I look forward to being of service.
: Tutor
: 45
: F
: Biology, Genetics, Other Biology Subjects, Chemistry, Anatomy & Physiology, English

BS in Biological Sciences
Teacher Certification Grades 6-12
: Masters in Curriculum and Instruction
: English
: Master
: Elementary, Intermediate, High school
: 30 : 50
: Evening session, Occasional day time hours

: Illinois
: United States
: 60035
: Only online or tutor's home/office
: Online, Email, Phone

6 years homeschooling experience with multiple age levels.
: 10+ years teaching experience
: 16
: School Teacher
: Secondary job
: Yes
: 13 months (2019-08-11 05:39 UTC)