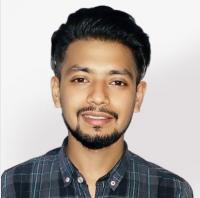 Zaman


Hear voice presentation
Always give my best to solve all my students problems
I am a bangladeshi citizen and i have very good command over the english language as i grew up in a english speaking environment. i have 7 years of experience teaching local students of all sorts and am thus experienced at tackling the problems that most students face. I always pay attention to the level of skill my student has and teach accordingly cratering to the needs of each unique student. I have also finished my bachelors degree on Electrical and electronic engineering from American international university of bangladesh. which is one of the best universities for my major in my country. i completed A levels and O levels under the edexcel board.
Being friendly young and fun is the way i like to teach. by creating a good environment i help my students avoid boredom and lack of concentration.
: Tutor
: 26
: M

:
: Mathematics, Physics, Algebra, Trigonometry, Calculus, Differential equations

A'levels (edexcel board)(GCE). Overall grade in chemistry,physics,mathemetics was 'B'
: O'level (Edexcel Board)(international IGCSE). overall grade in mathematics,pure matheatics,bangla,english,physics,chemistry,accounting,economics is 'A'
: English, Bengali
: Bachelor
: Intermediate, High school
: 10 : 25
: First lesson is half charge, if i fail to meet your expectation, i will be willing to give a refund for the first class
: Everyday Except Friday, from 12am-3pm local dhaka time

: Dhaka
: Bangladesh
: 1205
: Only online or tutor's home/office
: Online

Have worked with over twenty students between the age of ten to eighteen and have experience tutoring high school and middle school students and also O level candidates.
: seven years experience in teaching students as a private tutor in Bangladesh.
: 7
: Student
: Keeping active
: Yes
: 1 year (2018-09-25 22:01 UTC)